Showcase Video:
YouTube (click here)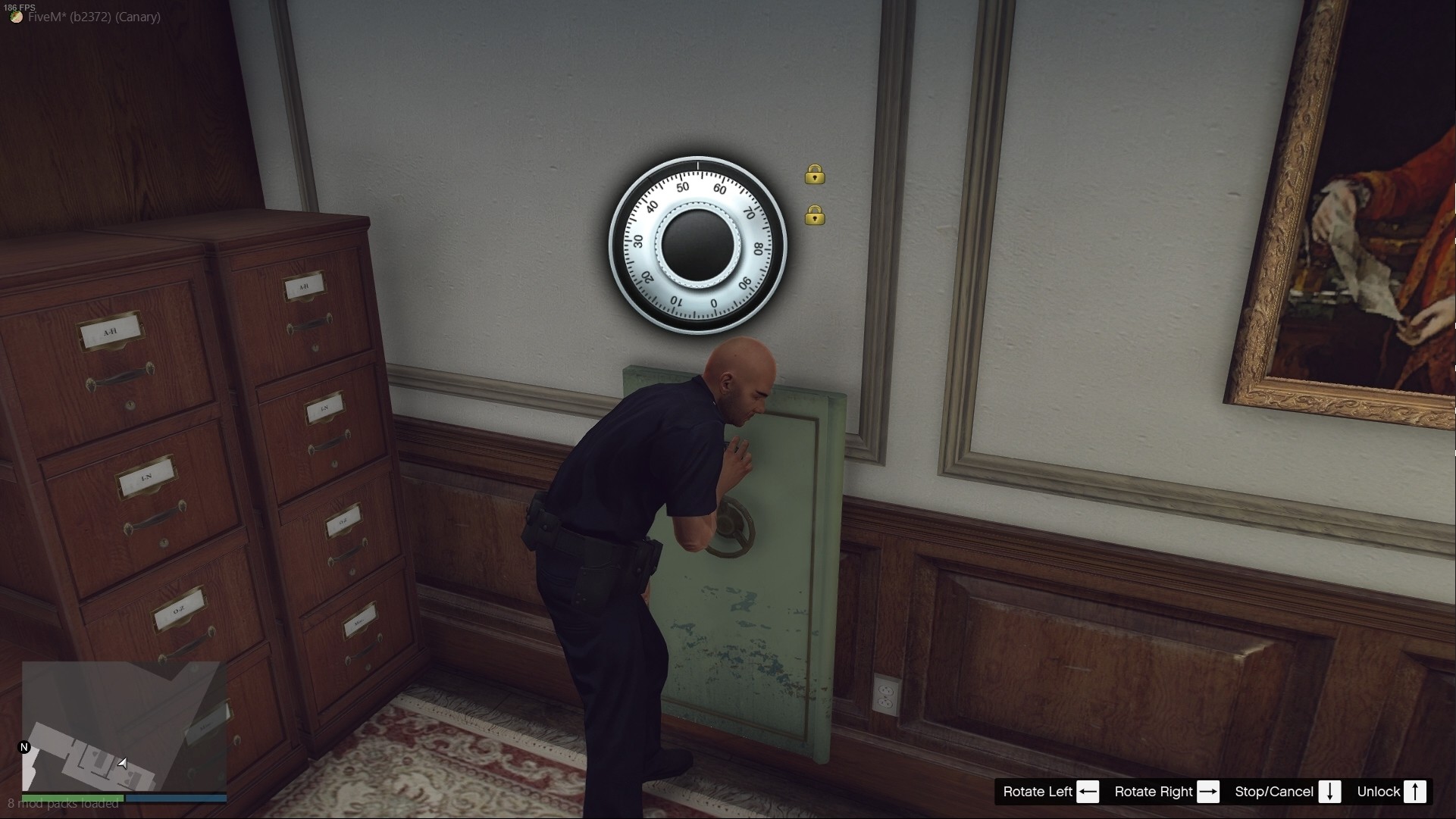 Summary:
A custom and advanced bank robbery resource for your roleplay server with unique and amazing features to enhance robberies for cops and robbers. Supports 8 banks in total by default and it's highly optimized!
Features:
Supports multiple banks, add/remove as you like. By default it comes preconfigured with 8 banks.
Configure blips, name and required cops for each bank.
Set required items & amount for interactions in every bank (thermite, hacking, lockpicking etc.). 
Two keypads in each bank that needs to be hacked successfully. Requires mhacking & utku fingerprint (otherwise disable or use your own).
Disable power box and rob the bank "silently", by gaining a free-rob-time before police is alerted. For every successful hacking afterwards, extra time is added to the pool. When timer runs out, police will be notified.
Nice and clean safecracking minigame in pacific's upstairs office room. Set configurable lock combinations. Requires power box being disabled and the door to the office lockpicked. Gives an access card (which can be used to skip hacking minigames at the keypads for pacific). You can also add more items & cash reward for the cracked safe. 
DLC drilling minigame /w instructional buttons. Option to set the drilling on pause and resume progress. Configure items/cash for each safe in each bank, so some banks could be more worth than others. Nice effects and sound.
Possibility to rob petty cash from clerk desks if all keypads are hacked and if the door to the clerk room is lockpicked. 
Other bank's will be in lockdown when there's an ongoing heist. 
Police can secure and re-open the bank after a robbery. 
Police can check cameras for each bank with nice effects/animation (preview).
Fully optimized; 0.00-0.01 ms on idle and 0.03 ms ish near drawtexts etc
Synced perfectly between all players and works flawlessly.
Dependencies:
ESX Legacy and below (NOTE: Does NOT support EXM/ExtendedMode or ESX v2.0+)
progressBars [optional] (u can disable / use your own)
meta_libs (vers. 1.3+) [required] (used for drilling, safecracking scaleforms etc.)
mHacking [optional] (hacking minigame, disable or use your own)
utku fingerprint [optional] (hacking minigame, disable or use your own)
Customizability:
The resource is fully unlocked and not obfuscated.
It's almost fully configurable and it's done through the config.lua file.
Translation is done through the language.lua file.
Support:
All support, issues and/or bugs is done through a dev-ticket on my Official Discord. (make sure to have your order# ready)
We do not offer support for custom changes.
If necessary we can help with installation but it's pretty straightforward, just read the README.
Disclaimer:
I or anyone affiliated with the creation of this product condone, support, promote, encourage or incentivize these or any type of activities relation to criminal acts in real lift. This product is purely for at roleplay environment and video game-/play purposes.